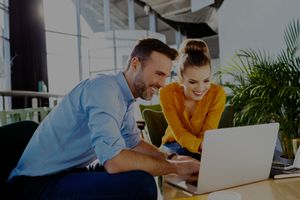 Genialcloud: solutions for business 4.0
The cloud platform for modern and innovative management of your business
Genialcloud for
Manufacturing organizations operate in a dynamic environment of increased complexity and uncertainty. The financial performance of production companies, in an increasingly global market, depends on their ability to adapt quickly to constantly changing conditions. Genialcloud allows users to identify relevant KPIs to get simple and instant answers to common concerns.
Enable digital transformation with simplicity and ease. The majority of all professional services are embracing digital transformation, especially through the adoption of cloud technologies, which facilitate the evolution of new organizational models, based on mobility and automation, fostering stronger relationships with customers and personalization of services.
Components
Management, Production, and Accounting
Genialcloud is designed for the management of the main business processes for companies of all sizes, including the following: management control, accounting, finance, purchasing, production, planning, sales, customers. It supports marketing, monitors sales activities, and automates customer service to strengthen customer relationships. It also includes trouble ticketing, project management, and timesheet-based billing capabilities.
Documents and Archives
Genialcloud allows you to store, share and exchange documents in any format, inside and outside the company, in a secure way. Users can keep track of the change history and always have documents updated to the latest version available. Thanks to the integrated Fax, it helps to manage and automate the flow of fax messages through e-mail clients, storing them in-network folders and in the repository, guaranteeing the highest level of security for confidential documents.
Data Analysis and Forecast
With Genialcloud Analysis, managers can monitor the progress of the business, examining the sales data, production data, customer data, and financial data of the company. Genialcloud also allows you to apply artificial intelligence algorithms to data analysis in simple steps, without the intervention of statisticians, predicting results and performance. In this way, managers can make accurate and informed decisions and correct their actions promptly to achieve business objectives.
Customer and Project Management
Genialcloud is an indispensable tool for project management. It allows you to plan activities and assign resources, in compliance with time and workload analysis and to analyze performance using graphs and reports for all the resources allocated to each project. Genialcloud also supports commercial, marketing, and assistance activities, and allows you to create a personalized relationship with each customer thanks to the functions of managing sales activities, monitoring customer satisfaction, and the efficiency of support services.
Human Resources
Genialcloud provides excellent tools for the complete and integrated management of employee and collaborator travel. It allows you to manage travel throughout its life cycle, filling in the expense report, verifying the supporting documents, authorizing, accounting, and paying reimbursements. Genialcloud allows the clock in and clock out via web through any device, favoring the adoption of smart working models.
Workflow
Genialcloud enables the implementation of workflows to support integrated document management by helping organizations to improve operations and monitor processes, making work more efficient and effective. Assigning activities to resources with the most suitable skills, managing projects without delays, keeping track of production/supply processes, and building a flexible support process are just some examples of how teams can use Genialcloud workflows to simplify their work and improve productivity.
Benefits
Easy to use, less cost
Genialcloud is a modern solution designed to be used without long learning and configuration times, while still offering parameterization and flexibility necessary for the midsize business. Offers integration with all major office automation and communication tools.
Enable Smart Working
You can use every component of Genialcloud through a simple browser, allowing users to work from wherever they want, with different plants and offices or even from home. Security is guaranteed by the best encryption and cybersecurity systems.
All in one monthly fee
Genialcloud allows you to free yourself from the worry of uncertain software and infrastructure costs. The applications are available in 3 monthly rate plans, configurable based on the number of users and functionality: Professional, Enterprise, Enterprise +.
Some of our customers