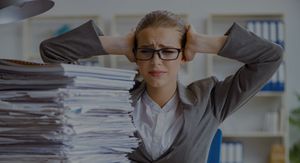 Manage your documents on a single platform
Rapid digitization has led to exponential growth in business data and documents. Every day companies create and manage huge amounts of business documents, contracts, offers, purchase proposals, marketing materials, human resource guidelines, training manuals, etc. Organizing digital files is often a neglected aspect of business management. 
According to a survey conducted by Gartner, a company spends an average of $120/year on labor to find an incorrect document and another $220/year to reproduce a lost document. This research also reveals that 7.5% of all organizational documents disappear, while 3% are incorrectly filled in. Finally, most employees waste 10% of their time searching for documents, and document clutter accounts for 21.3% of lost productivity. 
Genialcloud's Document Management system plays an essential role in making all document management tasks easier, faster and more automatic, eliminating paper and improving productivity.
REFERENCE SOLUTION
The Self-Service Cloud Solution for Collaboration, Storage, Workflow and Communication. It includes Enterprise level Document and Digital Asset Management tools. Share information, manage your workflow and collaborate anytime and anywhere.
Benefits
Improved workflows
With Genialcloud, you can use validation rules and perform specific actions on documents, such as metadata capture, document classification and electronic digital signature, without human involvement. This accelerates business processes and improves their quality.
Reduced storage space
Paper-based systems require a lot of storage space, which leads to an increase in fixed costs in real estate (offices, archives, warehouses). Archiving can become very expensive in the long term. An electronic document management system can significantly reduce these costs. Genialcloud's Scanstation Pro tool allows the digital scanning and conversion of paper documents, with OCR, ICR and barcode recognition.
Advanced security
It's no secret that security is one of the biggest challenges for most businesses. Manual document management is vulnerable to hacker attacks, who aim to steal sensitive data. With Genialcloud, you can apply access rules and permissions for each file and folder, checking the traces of who viewed and edited a document, as well as the time it was logged in.
Improved collaboration
Genialcloud lets you manage, sync and share your company's documents and information. Contributors are alerted when another shared document has been viewed or edited and edited by other contributors, and they can always access the latest version of your files.
Backup and disaster recovery
With Genialcloud, all documents are stored in a centralized and shared repository to manage indexes, tags, meta-data, check-in/checkout, file versioning, publishing, archiving and recovery capabilities.
Functionalities
Safe and secure file sharing
With Genialcloud it is possible to create a collaborative environment where people can securely store, share and exchange information and business documents. Genialcloud provides a centralized and shared repository for managing information, metadata, full-text indexes, tags, checkout / checkin, versioning, full search, permission management, publishing and archiving. Local and remote users can easily share content and keep track of document changes.
Give your paper a digital life
Genialcloud manages images and metadata acquisition through scanner, filesystems, OCR, and barcode. It is compatible with most professional scanner drivers, scanners, multifunction printers, copy machines, and fax server. Genialcloud automatically identifies and sorts scanned documents by referencing barcodes, patch codes, text content and document layout. Genialcloud indexes documents by extracting key data useful for subsequent processing, classifies them through metadata and publishes them using the synchronization and sharing features.
Keep your documents away from prying eyes
Genialcloud manages documents storage, offline backup, expiration date, and cryptography; it also certifies documents integrity and authenticity with the digital signature.
Automate approval and review processes
With Genialcloud it is possible to set up automatic workflows to support integrated document management, helping organizations to improve operations, monitor processes and make work more efficient.
No fax machine needed
Genialcloud manages all incoming and outgoing corporate fax communication. It automates the flow of fax messages directly to mailboxes, network folders, and Genialcloud Facsys repository, without routing to third-party servers, ensuring the highest level of security for confidential documents.

With Genialcloud you can send a document by fax through any web browser. The app includes the following connectors:
Channel Connector: Connector with telephone channel to send and receive faxes. You can set different channels (analog, digital, FoIPFax over IP).
MFP Connector: Connector to integrate faxes and multifunction printers.
Office 365 Connector: Enables integration between Facsys and the mail cloud provider in the Microsoft Office 365 suite.

With Genialcloud, users have a powerful fax server engine that allows them to send fax messages directly through Exchange, Outlook and popular mail clients. Users can compose fax messages in the Exchange or Outlook message window, or by using their mobile device's email application.
Some of our customers