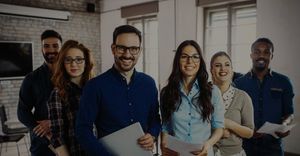 Use workflows to enhance productivity and collaboration
A workflow is a sequence of steps involved in moving from the beginning to the end of a working process. 
A workflow consists of an orchestrated and repeatable pattern of activity, enabled by the systematic organization of resources into processes that transform materials, provide services, or process information. Workflows give management insight into activity stages and timing of processes. 
Eliminating the need to schedule ongoing team meetings to assess the progress of work, setting priorities and deadlines, and delegating tasks to team members through Genialcloud's built-in task and project management tool means that employees are more efficient and effective at completing their tasks. Automatically generated notifications keep everyone in sync. 
Workflow reduces human errors by preventing daily processes from being delayed or disrupted, improves communication within the company and effective time management within your organization results in higher profits and helps maintain budgets.
reference solution
The Self-Service Cloud Solution for Collaboration, Storage, Workflow and Communication. It includes Enterprise level Document and Digital Asset Management tools. Share information, manage your workflow and collaborate anytime and anywhere.
Benefits
Fewer redundancies
Implementing workflow automation for your business helps you spot redundant activities within your organization that are taking up time and wasting productivity. Automated workflows allow repetitive tasks to be performed faster and without human error, increasing productivity, improving morale and efficiency within the company.
Accountability and transparency
Genialcloud's workflows allow for the assigning of tasks, monitoring of progress and when the task needs to be completed. When processes, tasks and objectives are clearly defined, management doesn't need to intervene until necessary. This allows management to identify stand-out performers and expose any masked issues.
Simplified processes
Genialcloud can determine when two tasks can be completed at the same time instead of sequentially. Managers may also find that some steps are not necessary, which allows companies to make more streamlined and informed choices about who should perform specific tasks based on relevant skills.
Improved collaboration
Workflow provides employees with a way to clearly see what is happening and what needs to happen in the future, ensuring that day-to-day operations are carried out smoothly. Documents and project materials can be shared while providing improved tracking of tasks and increased collaborative capabilities. By making it easier for your team members to work together and collaborate, you will enjoy improved results and reduced turnover.
Quicker execution
Managing and automating workflows in Genialcloud accelerates the time between defining a project and approving it internally. Management can set the software to inform employees if a deadline is due or missed. Team leaders can also ensure that all employees are immediately notified of any new projects, policy updates or deadline changes.
Document Management
Genialcloud allows you to convert paper documents into digital files and securely store your data; your sensitive documents and information are accessible on any device and protected through encrypted connections. Automatically capture, share and store documents, applying rules and hierarchies for approval; Simplify and optimize the distribution of information within your organization.
Functionalities
Human Resources
Workflows can automate the submission of HR documentation for absence requests, travel services, timesheets, internal surveys and reports. Genialcloud allows HR Managers to provide superior support to staff by providing a centralized portal for sending, approving and tracking requests.
Sales and Marketing
Time to market is key: Genialcloud ensures teams won't waste any more time waiting for budgets or marketing campaigns to be approved.
Finance and accounting
Finance and accounting are responsible for vast amounts of documents, often handled on a daily basis, including invoices, receipts, purchase orders; validation, approval and review procedures often result in workload and human error. Genialcloud can automate all manual processes, saving time and ensuring compliance.
Project Management
Assigning tasks to resources with the right skills, managing projects without delay, tracking production/delivery processes and building a flexible support process are just a few examples of how teams can use Genialcloud workflows to simplify work and improve productivity.
Customer Service
Workflows are often used in customer service and technical support when you have various levels of services. A workflow can assign an activity for the appropriate customer service level. Based on the customer's request or specific issue, the workflow provides instructions on how to route and assign the request.
Some of our customers