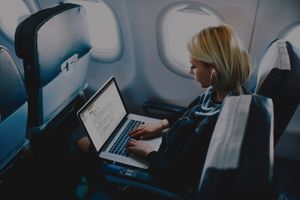 HOW TO MANAGE BUSINESS TRAVEL
Corporate traveling in the Business 4.0 era
All large companies must keep track of the expenses issued by their collaborators, for proper audit, accounting, and budget management. Employees commonly plan the travel itinerary with the Human Resources or booking offices, in the most structured situations, and present the expense reports to the Administration office, which has the task of monitoring how much the company is spending on travel and business trips and document everything for tax purposes. 
Very often these activities take place manually with an exchange of e-mails and using large piles of paper documents. This can have serious consequences: companies risk employees purchasing services outside of budgets and policies, and the sheer volume of documents causes delays in refunds, inadvertent accounting errors, and wasted time in unproductive manual processes. In addition, companies can be adversely affected by their cash flow due to duplicate or fraudulent expense reports, and cannot accurately and punctually bill customers for contract activities that include travel and business. 
Genialcloud Proj TEM offers complete and integrated management of employee and collaborator travel. It allows you to manage travel throughout its life cycle: before, during, and after the trip, from the request for authorization of the trip to the collection of receipts to the compilation of the expense report and the verification of the supporting documents, up to the accounting and request and disbursement of reimbursements. This is therefore not a simple and insignificant activity but a real structured flow.  Furthermore, Genialcloud allows the various HR figures, Controllers, and Financial Managers to monitor travel costs and build reports in complete autonomy. 
With the Genialcloud Proj Tem App, employees can send expense reports and related documentation, including photos or scans of receipts/tax receipts, directly from their PCs or smartphones, eliminating the compilation of paper forms always present. Repayment is accelerated, eliminating the frustration of delays and increasing productivity.  
Genialcloud Proj Tem is designed both for large enterprises with many business travelers and for those a bit smaller that have few business travelers but who make continuous business trips.
reference solution
The Self-Service Cloud Business Solution to manage and optimize your sales, production, purchase, inventory and financial processes. A full set of independent and integrated modules in one solution fully integrated: ERP, CRM, SCM, HRM and AFC. Run your company from anywhere just with a browser or a mobile device.
Benefits
Faster and simpler processes
Genialcloud Proj Tem tracks and automates the reconciliation of transactions made by collaborators through credit cards / electronic payments, simplifying the processing and reimbursement of expense reports. Automatically generated notifications inform collaborators and financial managers.
Faster employee reimbursement
Employees receive out-of-pocket expenses much faster than old manual processes, improving satisfaction and loyalty.
Fewer delays and errors
Genialcloud Proj Tem reduces the likelihood of data entry errors and can identify duplicate entries and prevent overpaying.
Greater operational efficiency
The reduction of time and costs both during the travel authorization request phase and in the expense report processing phase increases operational efficiency and allows employees to dedicate more time to higher-value activities.
Improved visibility
Integration with Genialcloud Analysis allows you to create dashboards and reports to view metrics such as expenses by employee, by project, by job order, or by category, in relation to travel costs.
Improved productivity
Employees scan receipts using smartphones and submit expense reports from anywhere eliminating the majority of the manual activities.
Possibility to associate a credit card
Both in the case of a company credit card assigned temporarily or on an ongoing basis, it is possible to insert a card in the respective registry making sure that everything is registered. Having an associated credit card allows you to import data directly from the bank and then download those files that banks make available to companies, and upload them to Genialcloud Proj Tem, simplifying, even more, the compilation of expense reports.
Greater compliance with company policies
Using custom rules, Genialcloud Proj Tem reports out-of-policy and budget-overrun expenses. Within Genialcloud Proj Tem there is the possibility of limiting expenses by creating ceilings both for groups and for individual expenses. This allows not only to prevent the employee from exceeding certain ceilings but also to create an automatism that immediately shows if these ceilings are exceeded. The exceeding portion is highlighted in red, so that the traveler, before sending the reimbursement to the manager for approval, can double-check it and correct it if necessary.
Genialcloud Proj Tem simplifies compliance processes by automatically classifying expenses for tax or audit purposes.
Functionalities
Integration
Genialcloud Proj Tem is natively integrated with the other solutions of the Genialcloud platform, including Proj SDI for receiving electronic invoices and Proj AFC for accounting; it is also possible to integrate it via API with third-party ERP software.
Automatic notification system
Genialcloud Proj Tem activates a workflow to approve the travel request and subsequent expense reports, which includes the verification and approval of electronic invoices, sending the related notifications to the business traveler and financial managers.
Mobile friendly
You can access Genialcloud Proj Tem from any device, without ever stopping to travel, entering expense reports in real-time.
Some of our customers